A survey on industrial, commercial and retail applications of synthetic nanomaterials was conducted on behalf of Suva in 2007.
The representative company survey revealed that around 600 establishments had used nanomaterials in 2007.
The study also showed
The annual turnover and quantity of nanoparticles stored was low at most establishments and rarely exceeded a few hundred kilograms.
Carbon black, titanium dioxide, iron oxide, polymers, silicon dioxide, zinc oxide and silver were substances in nano form used at establishments in larger quantities (>1 tonne per year).
At these companies, about 1,300 employees potentially came into contact with nanomaterials (representing about 0.6% of the companies and around 0.08% of the workers in the Swiss manufacturing sector).
Personal protective equipment such as masks, gloves, etc., was used for worker safety.
Technical solutions such as closed exhaust air systems were mentioned less frequently, and targeted environmental protection (e.g. wastewater specially treated or separated for nanoparticles, specific exhaust air and waste treatment) was declared in only a few cases.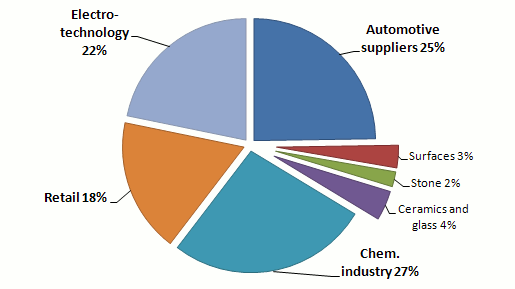 This study was supported by the Federal Offices of Public Health (FOPH), for Environment (FOEN), the State Secretariat for Economic Affairs (SECO) and the French institute for health and safety at work (AFSSET).

Links
Further information
SUVA Fact Sheet 2012: Nanopartikel und ultrafeine Partikel am Arbeitsplatz (nanoparticles and ultrafine particles at the workplace)
Last modification 21.04.2022
Contact
Federal Office of Public Health FOPH
Division of Chemical Products
Schwarzenburgstrasse 157
3003 Bern
Switzerland
Tel. +41 58 462 96 40