The Swiss Evaluation Society (SEVAL) operates and maintains a database of evaluators.
The Evaluation and Research Service at the FOPH has designed the evaluator database in close cooperation with SEVAL.
Using the database, selective searches can be conducted for potential evaluators, course instructors and research partners. It is also possible to see at a glance which evaluators conduct evaluations in a specific policy field.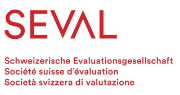 Last modification 17.08.2018
Contact
Federal Office of Public Health FOPH
Health Policy Directorate
Evaluation and Research Service
Schwarzenburgstrasse 157
3003 Berne
Switzerland
Tel. +41 58 462 74 17